13 best teenage skincare products that tackle blemishes, acne and redness
Tα 13 καλύτερα προιόντα για νεανικές - εφηβικές επιδερμίδες που αντιμετωπίζουν , κοκκινίλες, σπυράκια και ακμή .
Although teenage skincare might just sound like another marketing tool for brands to make more money, it's actually vital to pay care and attention to your complexion in your teens, with tailored products for your skin type and concerns.
Hormonal changes can cause with breakouts, clogged pores, and oiliness. Dead skin cells stick to this oil and block the pores, resulting in blackheads, and bacteria which builds up in these clogged pores that leads to breakouts.
The best thing you can do to break this vicious skin cycle is to introduce your child to a healthy and regimented skincare routine and choose products that are simple, gentle and calming on the skin.
Good skincare habits are for life and the cornerstone of a great complexion begins with cleansing. When it comes to cleansers, keep it simple – gentle washes tend to be best for any skin type since they're the least likely to strip the skin barrier.
Look for a foaming cleanser, which helps with oiliness, or something with salicylic acid to fend off acne. And always ensure the cleanser is washed off thoroughly. Residue left around the hairline can attract dirt and build up, causing spots.
Now is also a good time to get your teenager in the habit of using an exfoliating product. An exfoliant works by stripping away dead skin cells to reveal a fresher layer of skin, which prevents clogged pores and spots rising to the surface. Regular exfoliators can be harsh on skin, so it's important to pick one that is teen-specific.
Like adult skin, teenage skin needs protection from environmental factors which is where a serum is most effective. Though your child may be reluctant to add in too many steps to their routine, a serum will act as a barrier. Opt for something that contains vitamin C (a natural antioxidant) as this will help brighten skin, fend off pollution and make other products work harder. However, steer clear from vitamin E – this is often be found in serums but can be particularly clogging to pores.
Whether your child suffers from congestion or simply gets the odd spot, it is inevitable that they will experience breakouts of some sort while going through puberty. So, having a spot treatment handy will help to deal with blemishes quickly and reduce inflammation and redness before it escalates. Look for products containing benzoyl peroxide which is considered the best ingredient to zap zits fast.
Moisturising is where you need to take extra caution. Although hydration should never be overlooked, the right consistency is key to ensuring your teen is not overloading their skin with heavy lotions. Choose lightweight formulas and oil-free varieties if they are particularly prone to blemishes or congestion.
Once this skincare routine is consistent and becomes habitual, it's worth incorporating masks and toners (that balance the PH levels of the skin) for general skin management that will complement their existing routine.
And if we have just one skin tip to add, it's to encourage your child to wipe down their phone screen regularly. It's a breeding ground for germs and bacteria that will easily transfer on to their face, leading to skin outbreaks that can be easily avoided.
Here's 13 of our favourite teen-friendly face products selected by a panel of kids aged 12-18.
You can trust our independent reviews. We may earn commission from some of the retailers, but we never allow this to influence selections, which are formed from real-world testing and expert advice. This revenue helps us to fund journalism across The Independent.
31st State overnight clearing pads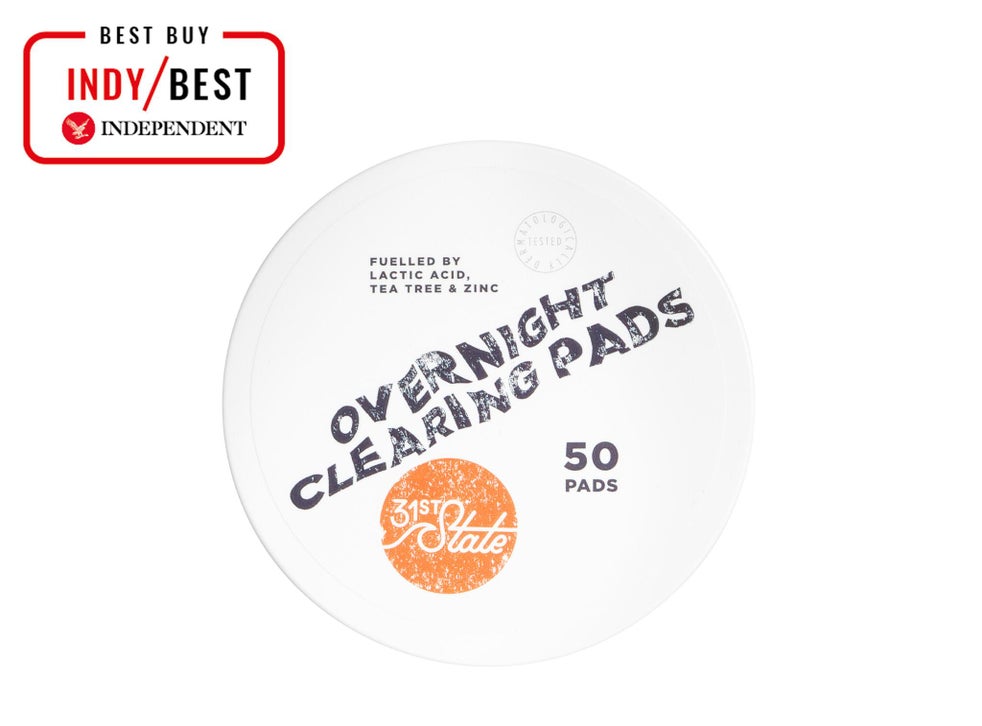 This award-winning, California-born teen skincare brand is specifically created for boys' skin problems (though we don't see why girls can't benefit from its products too). The collection was created by a mum of teenage boys who wanted skincare that would help clear up their skin without the troubling chemicals found in most men's grooming products.
Every product in the range is dedicated to tackling existing spots while preventing new blemishes from appearing, and these pads are the ultimate lazy way to getting your teen to clean their skin.
They contain lactic acid, manuka and tea tree to reduce the appearance of enlarged pores and remove the excess dirt and oil that stimulates blemishes. With its quick and easy application, not even a stroppy teenager will complain that they take too long to apply. A five second swipe up and down the face is all it takes to exfoliate and unclog pores.
With 50 pads in a pot, you'll get your money's worth. The only shame is that the pads aren't biodegradable, but the products are cruelty-free and suitable for vegans. This will not only boost your child's skin but also their confidence too.
Spots & Stripes gentle cleansing lotion
This brand was developed by former beauty editor Charlotte-Anne Fidler, a mother of two teen girls. The fun-looking products are specifically formulated to be safe and gentle on young skin, but super effective too. Our favourite product from the all-natural range is this cleansing lotion, packed with coconut and kukui oil, chamomile, lavender and mint to soothe and calm irritated and hormonal skin, and kanuka essential oil which works as an anti-bacterial and anti-inflammatory without stripping the skin. Although there are separate girl and boy versions of this lotion, it's exactly the same formulation, just packaged differently. It's worth checking out the entire range, it's a goodie.
OY! my skin goals
Skincare for tweens and teens starts with a great routine and the earlier you encourage this the better your child's skin will be in the long term. This three step set from one of our favourite sensitive skin brands, Green People, contains three products that complement one another and help tackle blemishes gently. The line is specifically designed for teen skin (the O and the Y stand for organic and young).
Each full-size product is powered with a cocktail of willow bark to help reduce inflammation and kill bacteria, tea tree extract to control bacteria, rosehip oil to encourage a clear complexion and yucca to deeply cleanse and remove dead skin cells.
A great starting point for teens who need a simple skincare regime that delivers and smells gorgeous too. Plus, 10 per cent of profits goes to Born Free, an international animal welfare charity.
Clarol silver serum
This post-cleansing serum adds a powerful punch to your teen's skincare. Although it's not specifically formulated with teens in mind, it's very gentle and light compared to other hardworking serums. It contains microsilver, which is a natural anti-bacterial agent that destroys bad acne bacteria without damaging good skin bacteria, leaving skin clearer, stronger and healthier. Think of it as a probiotic for your child's skin. If your teen suffers from blemishes then it's encouraged to use over the entire face, otherwise simply target the spots you want zapped. We were really impressed how easily it absorbed into skin, and it's 96 per cent natural and fragrance-free. Note: this doesn't take the place of a moisturiser, but is rather an add-on for an extra skin boost.
Dermalogica clear start flashfoliant
The latest product to join the ranks of this teenage-specific range from Dermalogica. The name alone makes us want to go out and buy it. Using harsh exfoliants can often do more harm than good, however this exfoliator is so gentle it can be used every day on young skin. The satisfying foaming formula is packed with salicylic acid, a beta hydroxy acid (BHA) that will help wipe out existing and future breakouts, while tangerine peel brightens dull skin and grape extract – a potent source of alpha hydroxy acids (AHAs) – exfoliates dead skin cells to help even skin tone. This makes a great choice for reactive and hormonal skin types. Our only criticism is the 100ml flip bottle didn't last long.
Pretty Athletic sweatproof neutralising hydration gel
This skincare brand was founded by ex-lawyer and fitness enthusiast Leyla Cooper because she didn't want sweat to be a deterrent to exercise, so she created this gym-friendly skincare range that ensures your skin can breathe before, during and after exercise. Loaded with prebiotics, which promote the growth of good bacteria and kill acne-inducing bacteria, this lightweight cooling gel re-balances the skin, making it a great choice for teenage skin. It's quick-drying, has great hydration properties and an uplifting citrus-y smell. The dinky packaging and pump-nozzle makes it spill-proof and mess-free (another great plus for teenagers). Although the brand was originally created for women who regularly workout, there is no reason why your teenager can't enjoy the blemish-fighting, skin balancing benefits.
Derma.E acne deep pore cleansing wash
This is without doubt one of the best face washes for teenage skin. It removes built-up oil and dirt to help unclog pores while also encouraging clear skin overtime and preventing future acne breakouts and blackheads. The cleansing wash is packed with a hardworking anti-blemish complex that includes salicylic acid, tea tree oil, willow bark extract and camomile. It's recommended that you use this wash one to three times a day for best results, but we found three times rather excessive. In fact, our tester's skin became incredibly dry as a result of too much use, so we'd suggest sticking to using this twice a day and make sure you're following up with a moisturiser. The only downside is that it smells very medicinal, but we half expected that from such a hardworking and powerful product.
Origins super spot remover blemish treatment gel
Deserving of its reputation as one of the best spot-zapping formulas for teenage skin. This easy-to-use spot treatment fights pimples quickly, fading blemish marks just as fast. Salicylic acid sheds dead skin cells while skin-calming red algae helps calm the skin. Simply dab on the spot and watch the magic happen. Although it's a little on the pricey side, a tiny amount goes a long way. This should be a staple in every teen's beauty arsenal whether they suffer from acne or just the odd spot.
The Body Shop tea tree oil
An oldie but still a goodie. Any household which has a teenager living under their roof should own this little green bottle of magic. With its natural antiseptic properties, this works well and fast on blemishes, rashes, bites and most other skin concerns. Although we don't want to advocate squeezing spots, we're all guilty of doing it. This oil will help bring the puss up to the surface without too much effort and avoid you from scarring your skin from heavy-handed pinching. A great tip is to place a few drops on a cotton bud and dab lightly on the spot for fuss-free treatment. And it's well worth checking out the whole range, it's a great unisex choice at a reasonable price point.
ThisWorks evening detox cleansing water
If your teen loves wearing make-up, then this gentle micellar water makes a great cleansing remover. Decongesting and restoring sweet almond oil and aloe vera will remove dirt, pollution and even heavy eye make-up while liquorice root will soothing the skin. As this removes everything gently, they'll be less need to pull the skin which in turn means less irritation and inflammation. Skin will feel refreshed and squeaky-clean. It's quite watery in consistency, but the pump applicator makes it easy to control.
Thyme Out
This tincture is works as an anti-inflammatory for irritated skin, treating everything from acne and eczema to prickly heat and nappy rash. It's no wonder Romans used it to prevent poisoning and protect against infection. This natural water-based liquid is so mild, you can apply it as many times as you want if your child is suffering with a skin flare-up. While this helps to get symptoms under control, it can also be used as a preventative on an occasional basis. It works well when you get that bruised type feeling before a pimple or a cluster of spots are about to make an appearance. We love the fact that with each bottle, you also get a travel-friendly version. Super handy!
Clarins my Clarins clear out anti blackheads stick + mask
We love this skincare range from Clarins that's specifically designed for 18-25-year-olds. The formulas are created using fruits, floral waters and plant extracts with super energising and detoxifying powers to hydrate, balance and enhance – gently. Due to its popularity, the nine-strong range is ever growing with another two products set to be launched next month. However, the product that really stands out in the range is this unique mask. The 2-in-1 formula tackles spots but also acts as a decongesting face mask, all housed in a handy easy-to-apply stick. The mask withdraws all the excess sebum (oils) from the skin, while dislodging blackheads. If your teen tends to suffer from congestion around their T-zone then this dinky stick is a fabulous breakout-banishing product.
Nip + Fab teen skin fix zero shine moisturiser 
Known for its purse-friendly, hardworking products with minimal fuss, it makes perfect sense for Nip + Fab to launch a teen-focused range. It's designed mainly for problematic skin, however this collection can also be used as for general skin maintenance. This moisturiser is a particular favourite. It's a great starter product for young skin because it feels so lightweight, yet it has a cocktail of powerful ingredients (wasabi extract and salicylic acid) that penetrate deep into pores to remove impurities to reveal a fresh, shine free complexion. This punches way above its price point and the bright packaging and funky font is guaranteed to be a big hit with your teenager.
The verdict: Teenage Skincare
With such good feedback from all of the products showcased above, it is difficult to find just one product or range that's deserving of a gold star. However, what we can conclude is that 31st State clearing pads were a massive hit with our teenage testers. And parents gave a big thumbs up to the OY! skin goal set for encouraging their kids to actually wash!
IndyBest product reviews are unbiased, independent advice you can trust. On some occasions, we earn revenue if you click the links and buy the products, but we never allow this to bias our coverage. The reviews are compiled through a mix of expert opinion and real-world testing.
LEAVE A REPLY
Your email address will not be published. Required fields are marked *